By Jen Rockett, Archivist, Zeta Omicron – Georgia Institute of Technology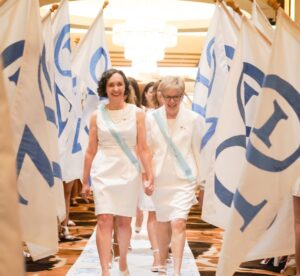 On this day of Grand Convention, every member attending takes part in the Adelphean Processional.
The Adelphean Processional began in 1941 at the 90th Anniversary Convention at The Homestead in Hot Springs, Virginia. Grand President Caralee Strock Stanard had the idea to recreate the original parade of Adelpheans through the halls of Wesleyan in white dresses with blue satin ribands announcing the founding of the Adelphean Society. All officers and delegates wore white dresses with blue satin ribands bearing the motto "We Live for Each Other" as they were led into Convention Hall by Mrs. Standard and Mrs. Mark O'Daniel, the oldest delegate in attendance. While the order of who proceeds first has changed, the Adelphean Processional has remained the formal opening of Grand Convention.
The parade of flags joined the Adelphean processional at the 150th Anniversary Convention in 2001. Chapter presidents and delegates carry a flag bearing their chapter letters into the session following other delegates and visitors. Flags of dormant chapters are included in the parade with the flags carried by collegians or alumnae who have a connection to the closed chapter or the state in which it was located. Any chapters that have been installed since the previous convention process in last, therefore if any chapters were reinstalled during the previous biennium, they are pulled from Greek alphabetical order and recognized last.
In 2009, delegates held their chapter flags up to form a canopy that all others processed through into the meeting space. Also, the order of the processional changed at this Convention. Previously, Grand Council had marched into the room first. Beginning in 2009 and continuing today, Council now enters just before the flags. Finally, in 2015 a white and blue aisle runner was added to denote where each chapter's flag bearer should stand during the processional.
---
---