by Meg Alexander                 
Five years and counting – being a part of Team ADPi running the Chicago Marathon has given me more than I could have ever dreamed when I signed up to do the 2015 race; my second marathon ever.  Our small and mighty team runs for Ronald McDonald House Charities.  This year all RMHC runners, including Team ADPi, have collectively raised over $1.1 million and counting, which is over 15,000 nights that allow families to stay close to their children who are receiving the medical care they need.
15,000 nights that allow families to focus on their children's healing and care without worrying where they will stay or how they will afford it.

When I ran home to ADPi in 1997, I came for the sisterhood and service.  I would have never guessed that I would continue to experience it in so many different ways more than 20 years later as part of Team ADPi.
Training for and running a marathon is a good metaphor for life.  It's the culmination of hours of training over several months, navigating life challenges that derail training, finding a way through injuries and being drenched in sweat from those summer morning runs.  I'm a back of the pack runner (aka slow and steady), and I'll spend about six hours or so navigating the 26.2 miles through Chicago on October 13.
There are three things that are the essence of our sisterhood that keep me coming back and running with Team ADPi and sustain me through those six-ish hours.
First, it is service.  Knowing that I am a part of something bigger sustains me through those tough runs and helps me quiet that voice that tells me to just give up.  I will likely never meet the families that stay at a Ronald McDonald House, and remembering my Why of doing this race – to keep families together so that they can focus on their child's care – keeps me going through the tough parts.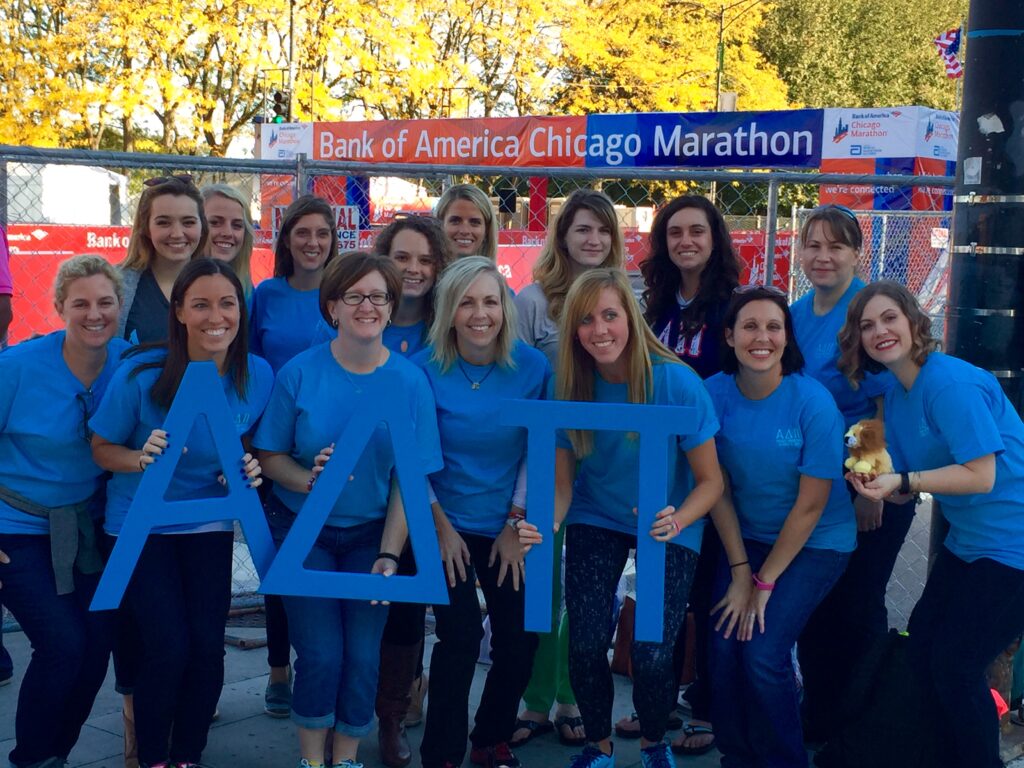 Second, it is my sisters and our sisterhood.  Team ADPi is diverse, but we are held together by common goals – showcasing Ronald McDonald House and achieving a personal goal in those 26.2 miles through Chicago.  We come from all chapters, different stages in life, and different decades of initiation. It is a team of fast runners, weekend runners, and back-of-the-pack runners.  I have had fellow runners who are sisters throw diamonds during the race when the see the ADPi letters on my shirt.  There is always a sister to uplift and support you.
Mile 20 is my favorite stop on the race, because those ADPi sisters give us all the boost to run the last 6.2 miles with our heart.  I've also benefitted from the friendships that have developed, and those sisters that converge in Chicago are my friends that I get to see for our meeting of the Sisterhood of the (Running) Shoes. 

Third, it is the social connections that keep it all together.  There is nothing like a sister and fellow runner that appears with a smile and a thumbs up just when you need a mid-race boost the most.  Or knowing that there will be a sister waiting when you cross the finish line; especially because she will hug you even though you are hot, sweaty, exhausted and not wanting to take another step.  There is something special about the bonds we form while putting our bodies through the ringer to complete the marathon. Equally special is sharing this with friends, family, and sisters that get to be a part of this journey by fundraising or being a part of the team. 
Team ADPi is the best of our sisterhood in action.  You don't have to be a runner to be part of Team ADPi. You can donate to support a runner or the entire team, you can cheer at Mile 20, and you can post a note of encouragement.  If you are a runner, there is always a place for you in our special annual meeting at the Chicago Marathon. 
Meg Alexander is an initiated member of the Zeta Xi chapter at the University of Virginia and serves as the Chapter Advisor at the Beta Iota chapter at Queens University of Charlotte.  She finds time to run slow and steady through the summers in North Carolina and reaches peak training for Chicago during primary recruitment.  This year will be her fourth Chicago marathon (running) and her eighth marathon overall.
---
---