To celebrate Valentine's Day this year, we're bringing back and adding to our #ADPiCollegeSweethearts blog post! We asked our alumnae to send in pictures with their sweethearts they met during their time in college, we were overwhelmed with so many heartwarming submissions! Grab a tissue – happy tears are ahead…
---
"Eric and I became friends in 5th grade, but did not start dating until my sophomore year at Kansas State University (Alpha Eta). We were pinned my junior year and married my senior year (his first year of grad school). We have been happily married for 50 years and have two sons and four grandchildren." – Carolyn Norberg
---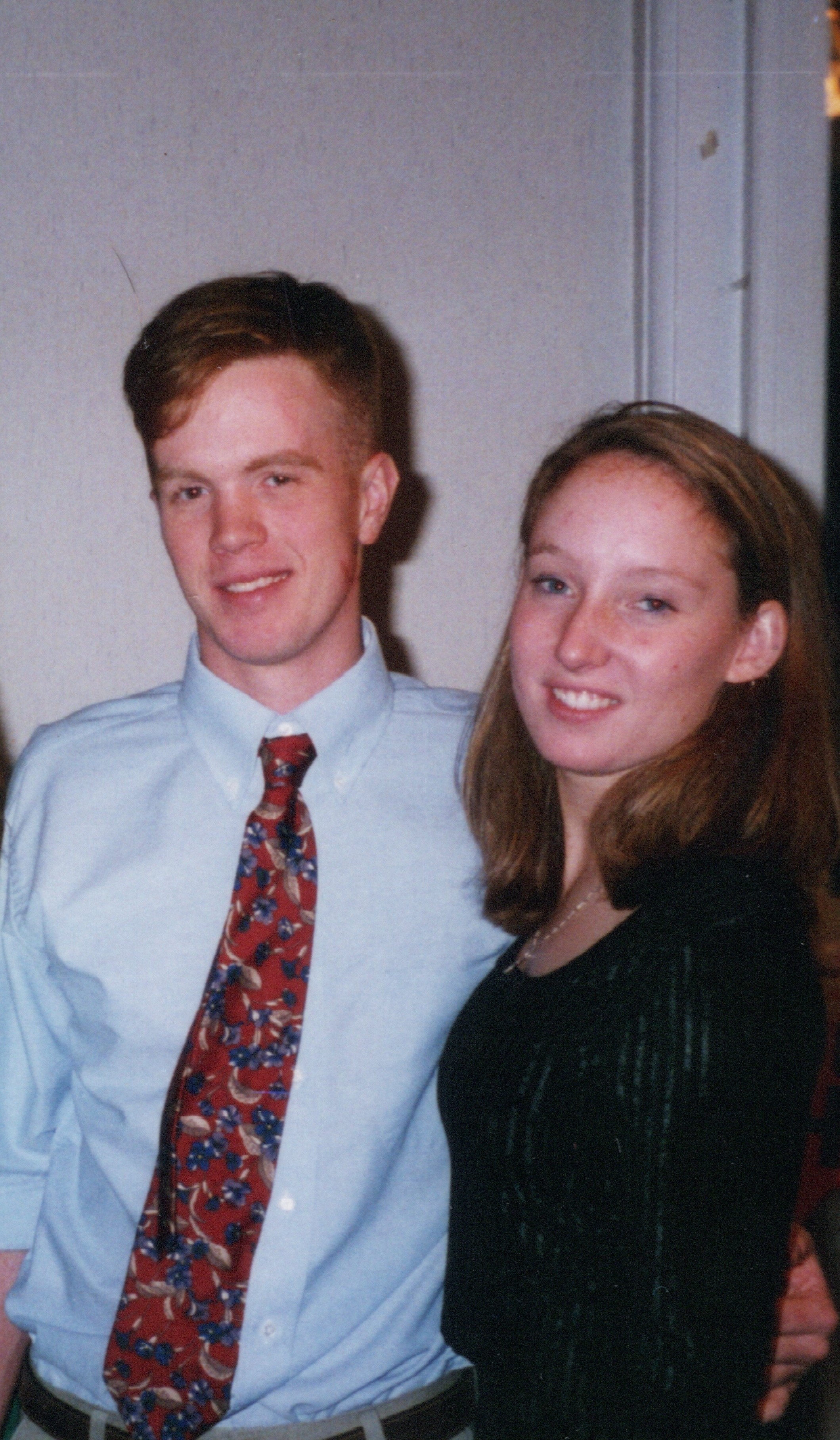 "Dave and I met through my Gamma Tau sister named Cheryl. Dave and Cheryl used to date in high school, stayed friends into college, Dave came to UVM to visit, we started dating, got married, had kids and that's that!" – Cassie Sherry
---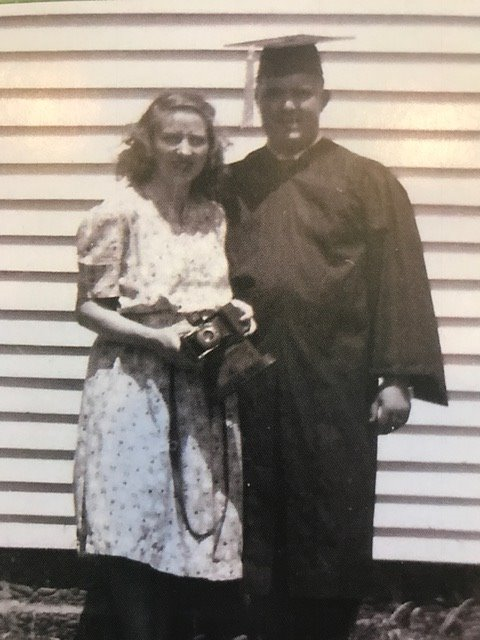 "As soon as I heard about #ADPiCollegeSweethearts I knew I needed to share a picture of my grandma, Betty Lou Honaker, and grandpa. When I think of college sweethearts I think of them….
The fact that they met because grandpa's sister was grandma's sorority "little sister" makes this ADPi love story that much sweeter. Grandpa talked about being the happiest guy on campus when she agreed to go on a date with him….."We started dating pretty steady – real steady. Started talking about getting married when we both finished college but that was way too far in the future and we moved it up to the summer of 1947."
So, within 6 months of meeting at the University of Mount Union, the Phi Kappa Tau Epsilon Chapter and the Alpha Delta Pi-Gamma Theta began their life together
" – Abby Honaker
---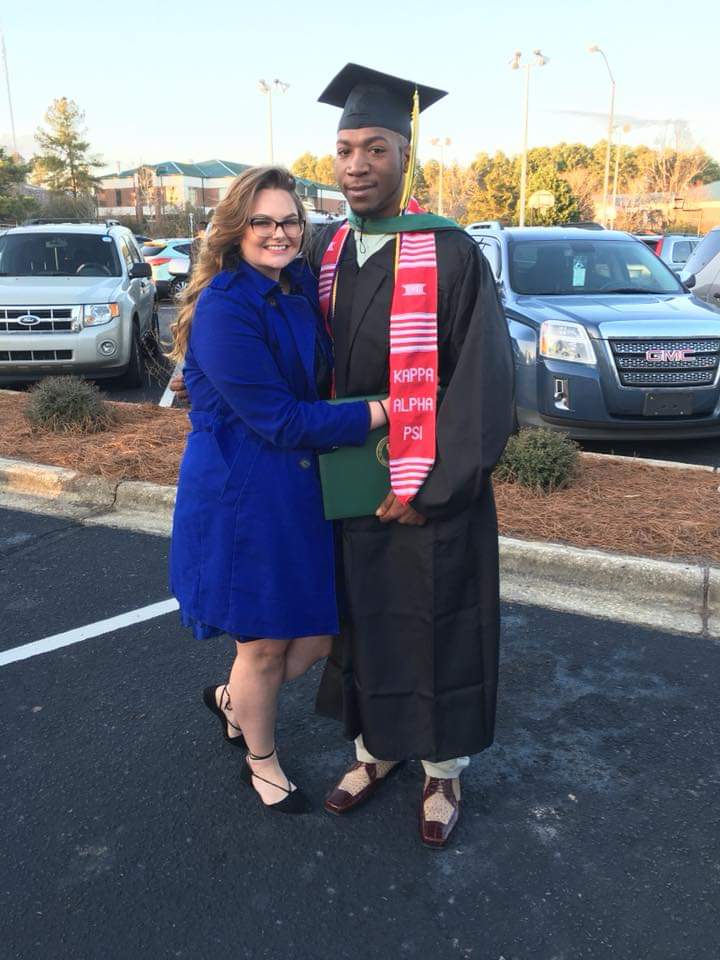 "Although my story is much more recent, having only met in 2016. I met the love of my life James through ADPi. My best friend, house roomie, and sorority sister Hannah, was dating the president of a fraternity on campus. I noticed one of the new boys in the fraternity and told Hannah that I though he was really cute but was too shy to talk to him. Hannah and another one of James fraternity brothers coerced a plan to get us to speak to each other as apparently he felt the same way about me but was also too shy to speak to me. James and I have been inseparable ever since. If it wasn't for my sister pushing me out of my comfort zone, I wouldn't be living and loving life with my soulmate!" – Jessica Bell
---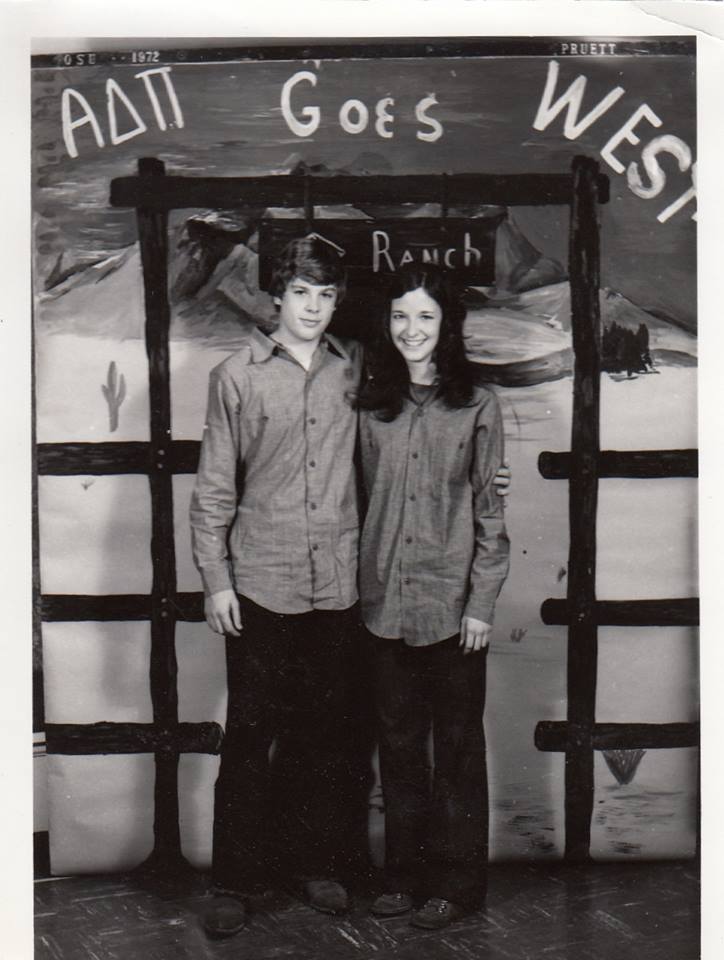 "Randy and I met at an ADPi/Phi Tau function our freshman year. Been married 41+ years. A year ago moved back to Stillwater (Oklahoma State) to retire.
😊
(Alpha Omicron)" – Karen Mackey Reed
---
"My girlfriend and I were both members of the Epsilon Xi chapter at Northern Arizona university! I served as our MEVP for two years, and she just finished up her term as president, both of us while obtaining biomedical science degrees. We've been met with nothing but love from all of our sisters!" – Jensen Grief
---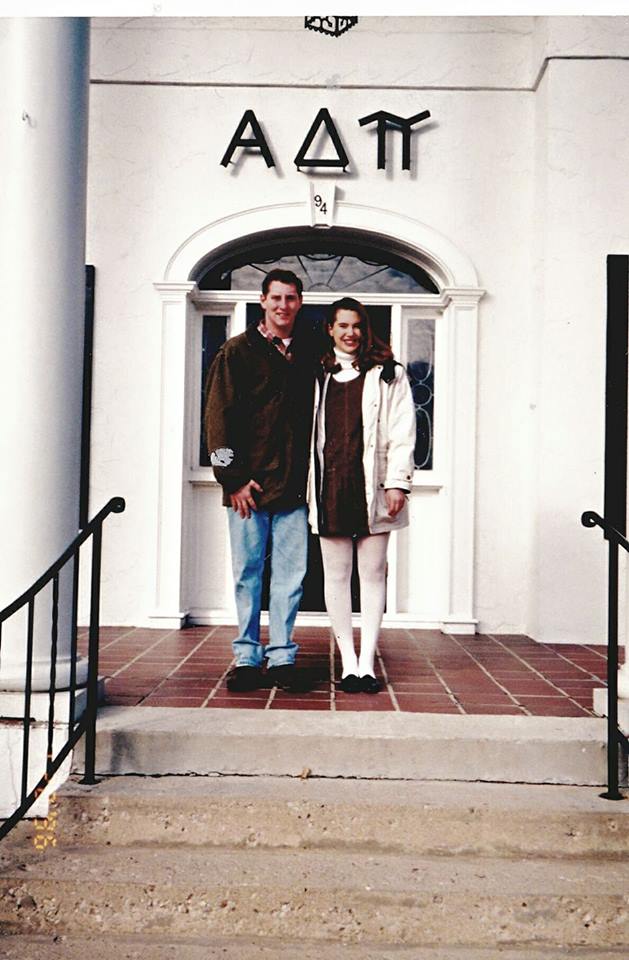 "On the porch of the Alpha Xi Chapter house at The Ohio State University circa January 1996. Stellar 90s fashion on display and fun memories" – Katie Knostman
---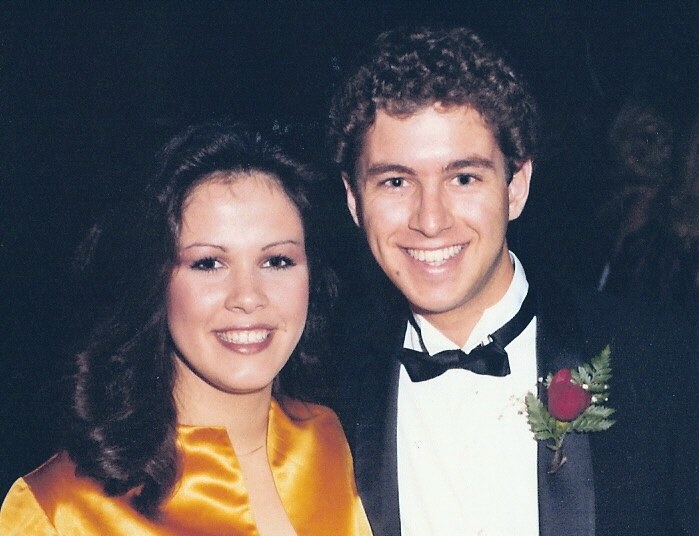 "My husband and I met at The University of South Carolina in 1981. This picture was taken at our Black Diamond formal. We got married in 1984. We are now going on 33 years…and we are still sweethearts!" – Jackie Mason Travis
---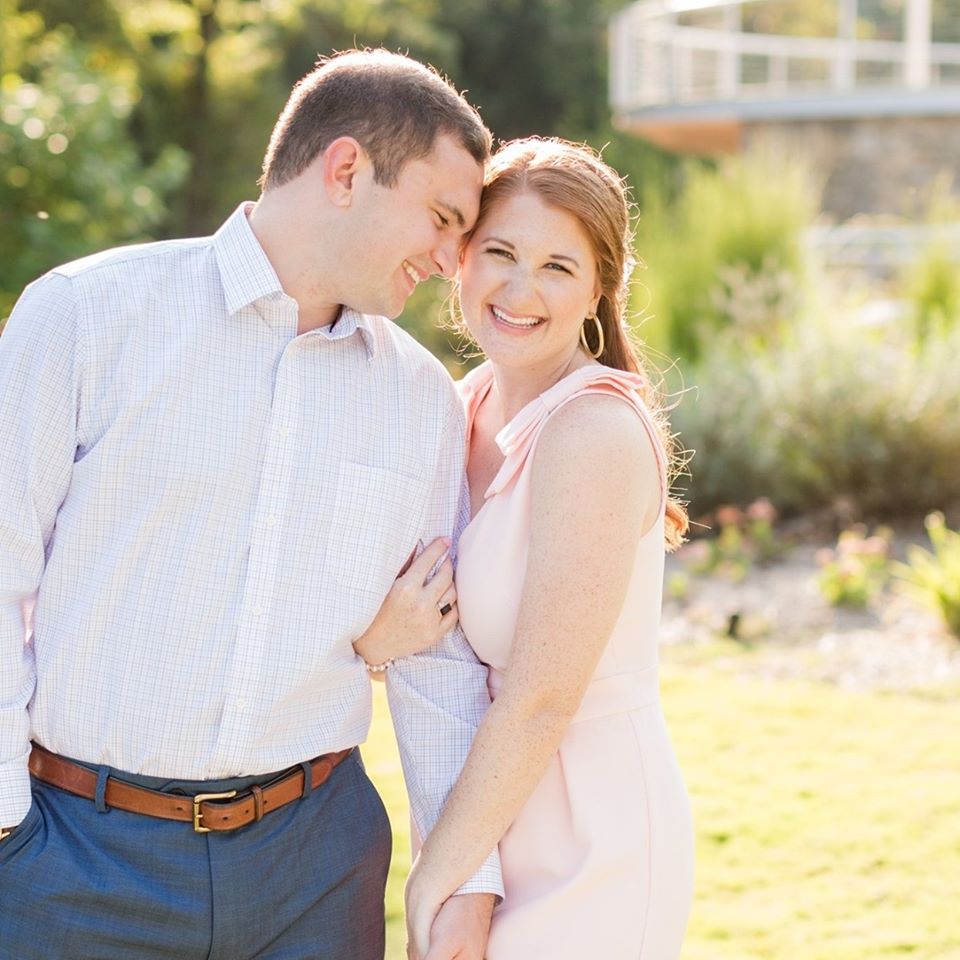 "My fiance Ross and I met in the fall of 2016 all thanks to an ADPi date function – semi formal! We will be getting married in just over 100 days on May 16, 2020 in my hometown of Greenville, SC." – Emily Dunn
---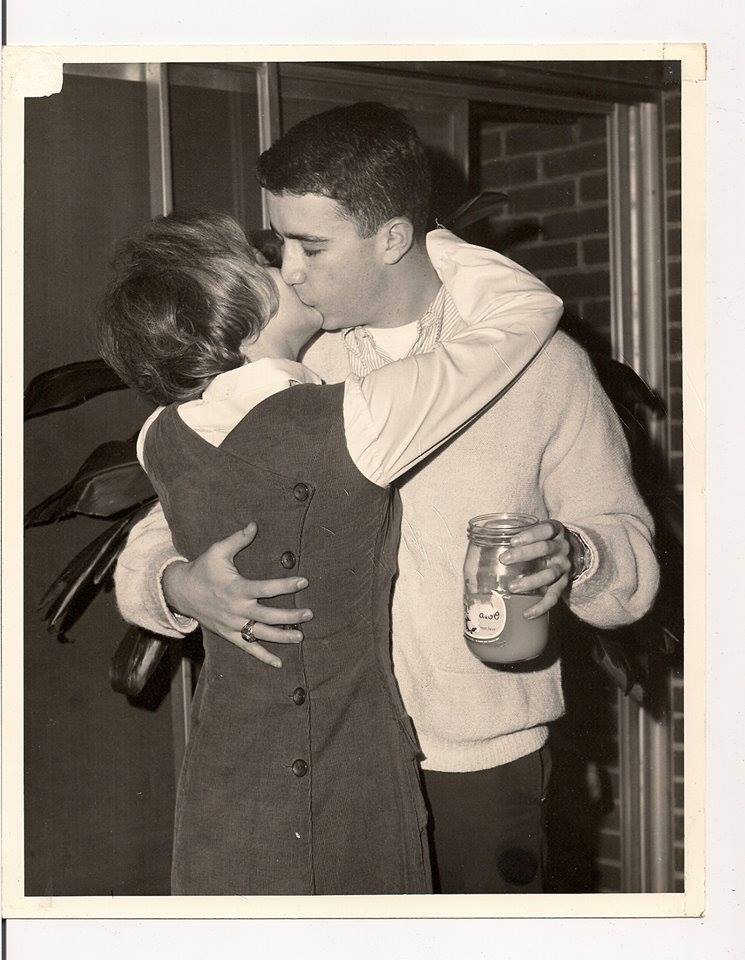 "This photo of me and my boyfriend/now husband, Hardy Homich, was taken at Ole Miss, circa fall 1963 at the Delta Kappa Epsilon fraternity house. I was an Ole Miss Delta Sigma ADPi pledge in the fall of 1962, initiated in early 1963. Hardy and I have been married for fifty two years!!
" – Karla Homich
---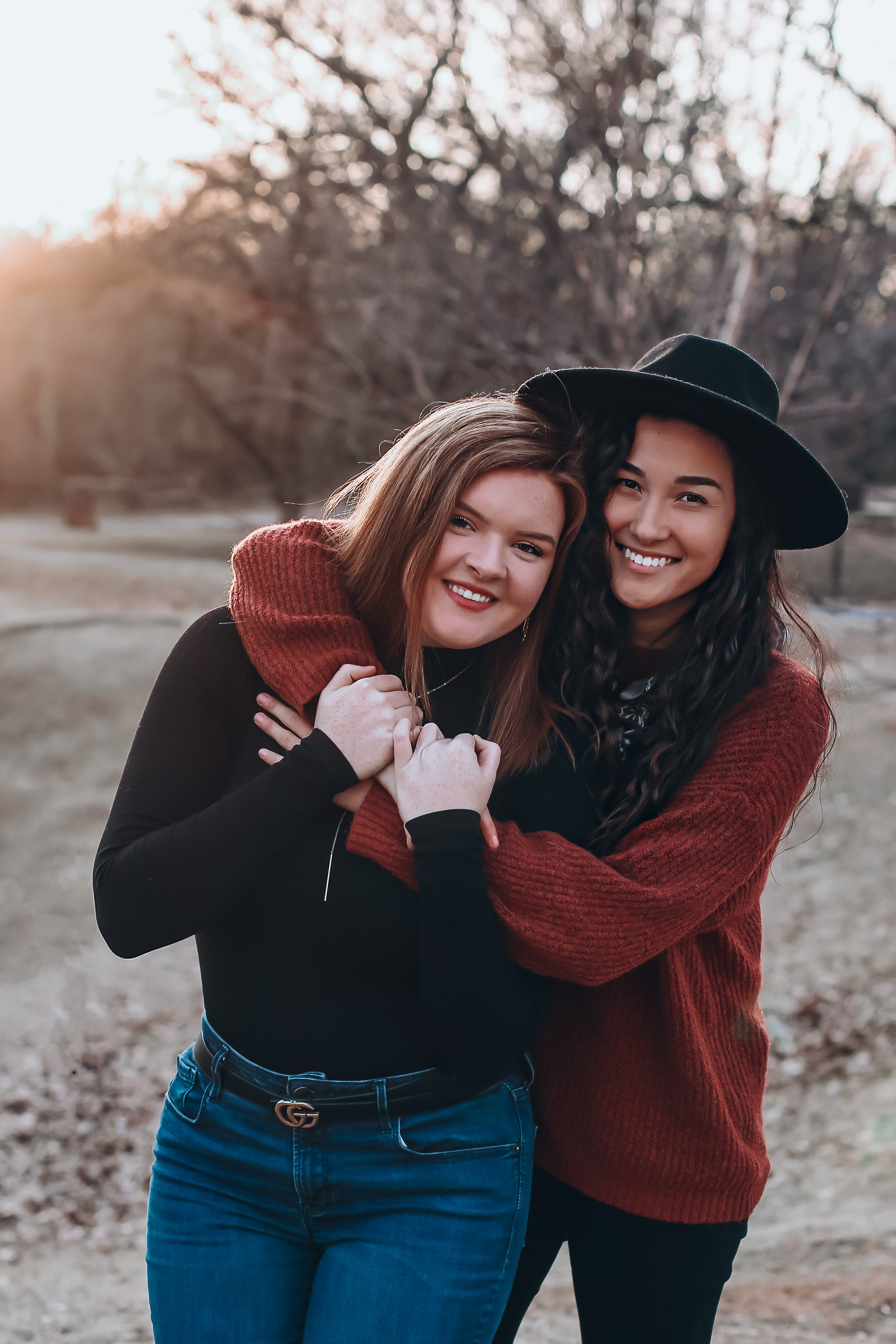 "Sydney and I met in the chapter! We came from opposite ends of the chapter and met through mutual friends. Sydney is the most patient, kind, and caring woman I've ever met. We complement each other so well and every day she challenges me to be a better woman, leader, partner, and friend. Although it may be a little unconventional, I'm so grateful for everything my membership experience has brought into my life—especially the love of my life." – Elle Stover
---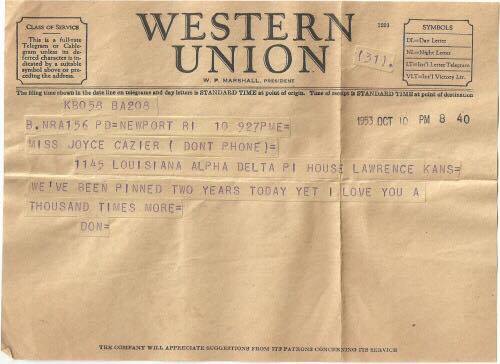 "
A telegram my grandpa Don Ellis (Sigma Alpha Epsilon) sent my grandma – Joyce Cazier (ADPi Tau – KU). He sent this to her at ADPi's first house at KU. They met at KU and went on to get married. My mom – Natalie Ellis (now Drake) and her sister Ingrid Ellis were also members of Tau, and then I was, 30 years later.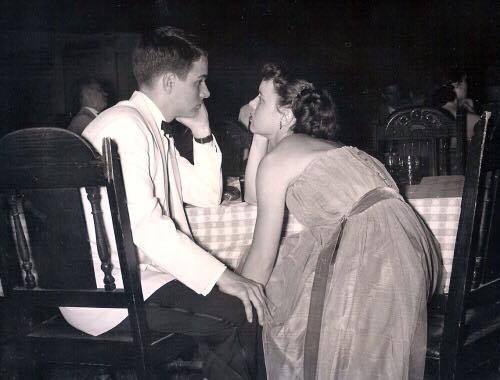 Being in the same sorority as my mom and both of my grandmothers meant so much to me, but Joyce was the trailblazer who started it all. Rock Chalk
" – Katie Morris
---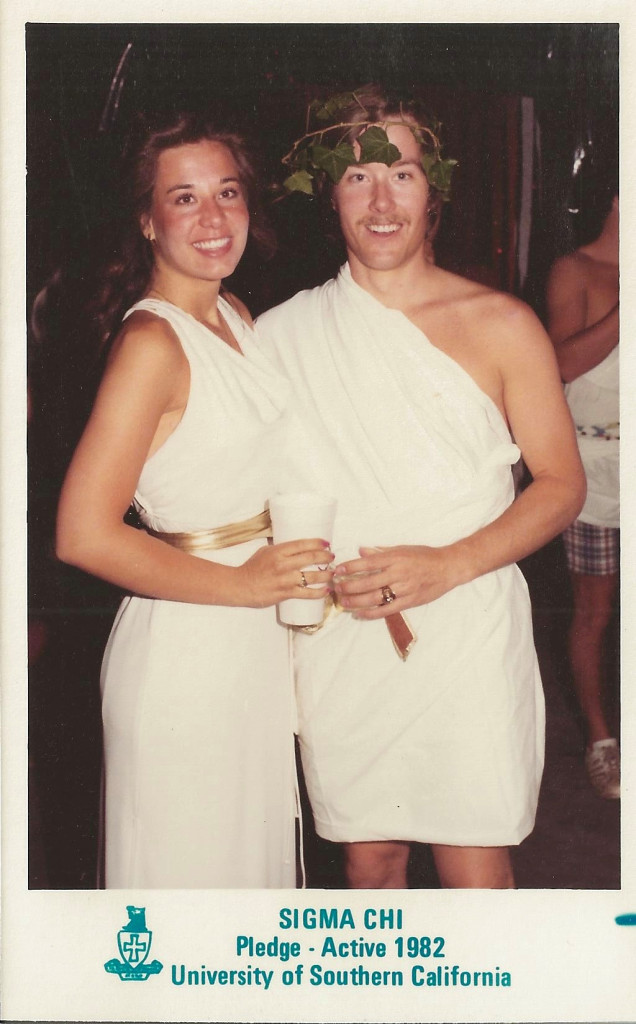 "Keith and I met during Sigma Chi Derby Days in 1981 when he was the ADPi Lieutenant. Married, September 1984 ~ Celebrated 32 year Anniversary last September." – Gloria Swindle
---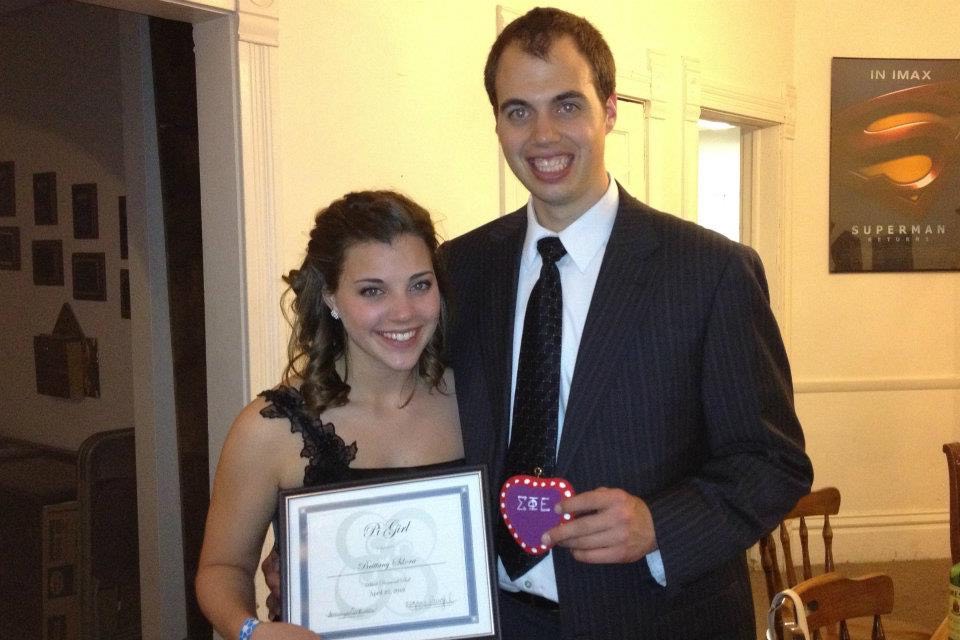 "I met my husband, David, at the University of Northern Iowa (Epsilon Mu) 10 years ago while line dancing! He pinned me with his Sigma Phi Epsilon pin our senior year and we married 2 years later. Our picture is after our senior formal where we were awarded Senior of the Year awards." -Brittany (Sikora) Miller
---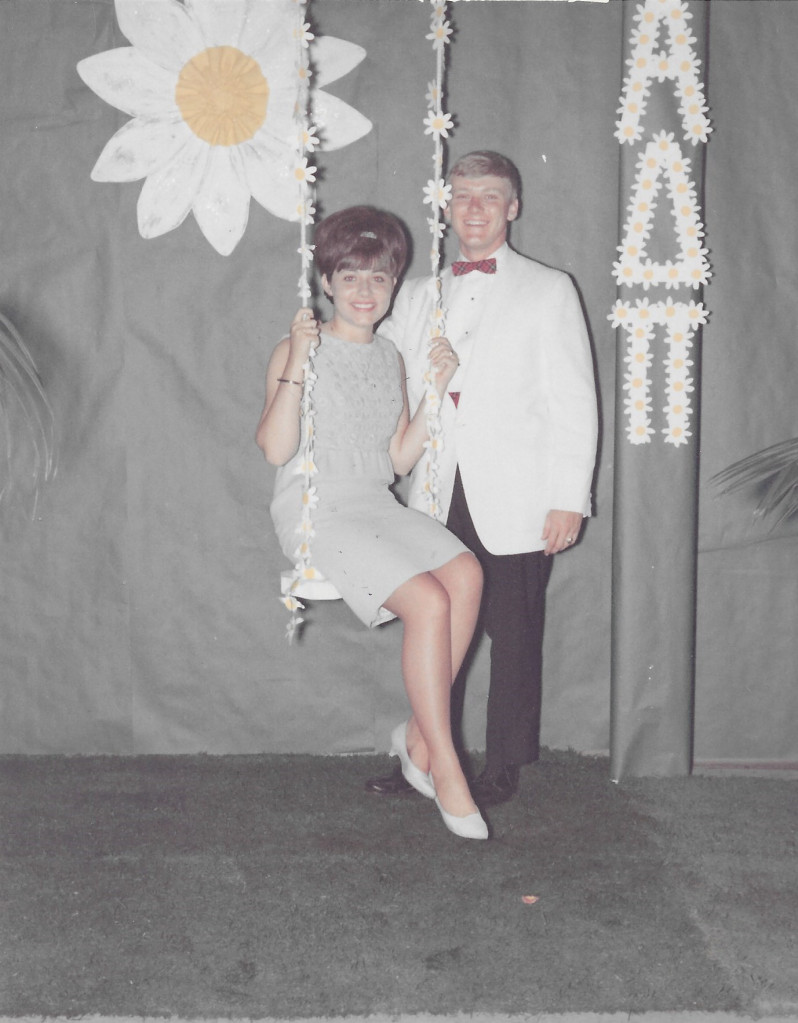 "ADPi Spring Formal 1966 at Western Ky. University. Celebrating our 48th Anniversary this year." – Susan & Lacy Gray
---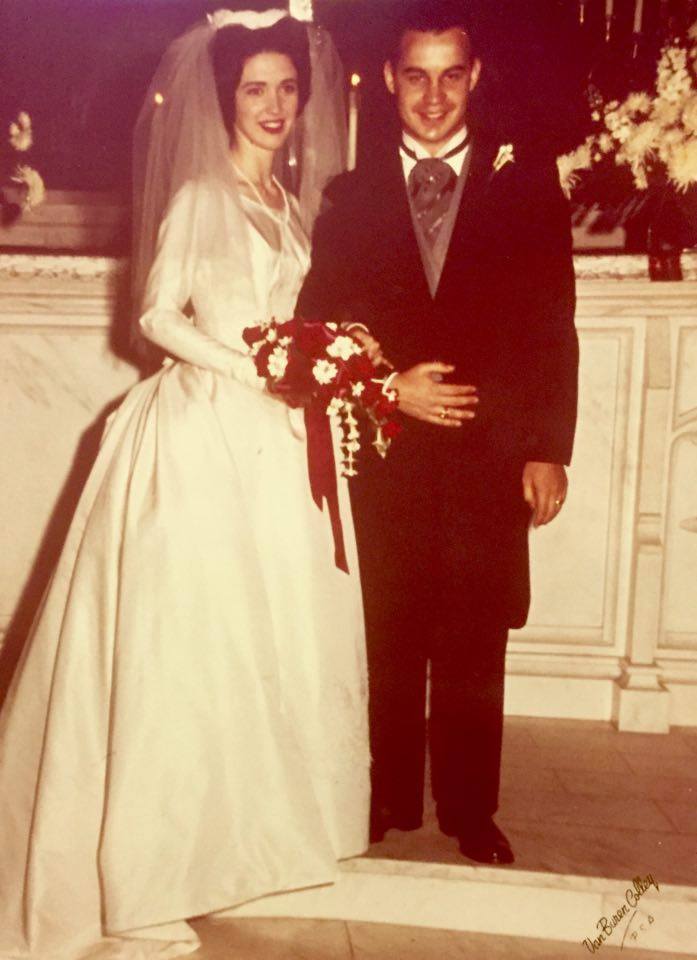 "My mom (Rita Walker, Delta Alpha – Emory) & dad met in college. Been married now 54 years. I met my beloved in college (Delta Alpha – Emory). Been married almost 21 years." – Rev. Meghan Gurley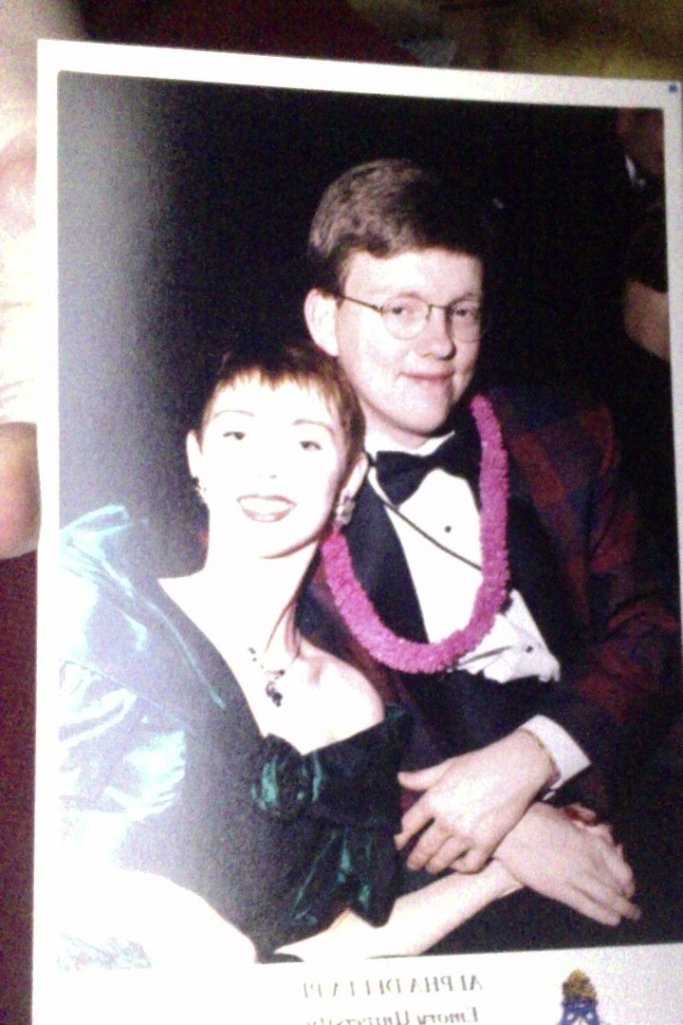 ---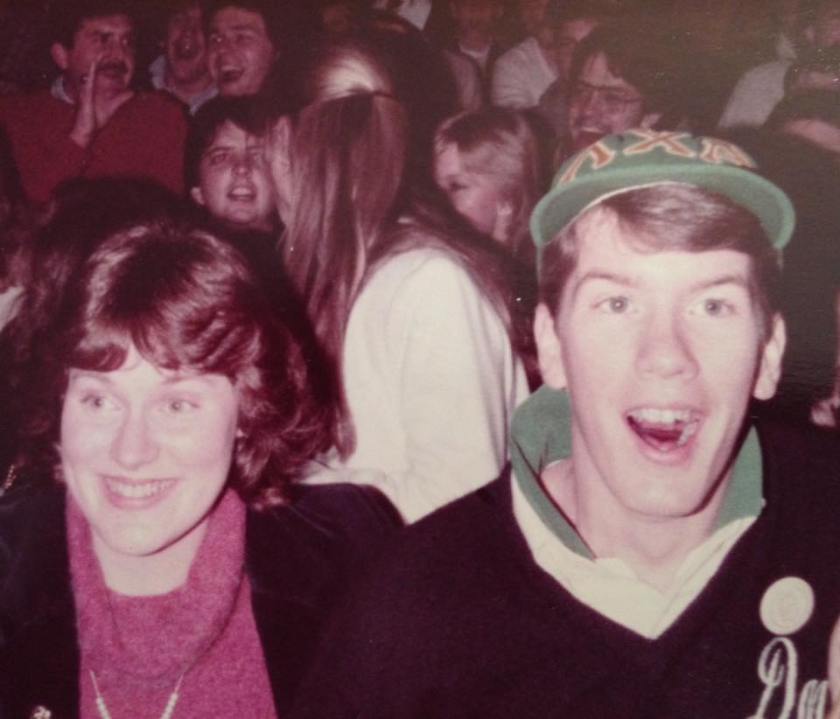 "This photo is from Fall 1982 taken at UNC-Greensboro homecoming of my husband, David Huffine, president of Phi Theta chapter and me–president of Zeta Psi chapter. We will celebrate our 30th wedding anniversary in July. David currently serves Lambda Chi Alpha as the Grand High Phi" – Linda Schaub Huffine
---
Share your love story with the hashtag #ADPiCollegeSweetheart!
---
---